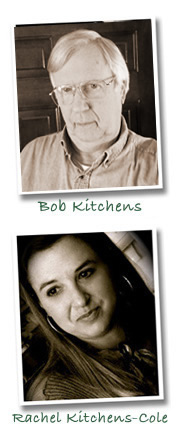 Have A Question?
Did you check out our helpful project videos and library of FAQs?
Still need an answer?
About Faux EZ
Bob Kitchens, the inventor of FauxEZ, began his painting career 40 years ago in beautiful Athens, GA. His work painting historical homes gradually progressed to faux finishing in the early 80's when it was still hard to find artisans skilled in finishes such as marble or tortoise shell. His artistry resulted in his work being shown at numerous decorator showcases in the Atlanta area, including The Bobby Jones mansion and The Symphony Showhouse. He also worked regularly in various upscale Atlanta restaurants. His love for his craft then led him to custom furniture finishing for high-end decorators. One such decorator required a sleek, contemporary look such as faux metal nesting tables. Another such decorator preferred a more rustic approach and Bob became an expert in distressed and antiqued finishes.
He later went to work in the paint department at Home Depot so that he could spend more time with his family, primarily his grandchildren! He met numerous customers there who were tired of their white cabinets or were having difficulty finding a good finisher for a new set of raw cabinets. Many customers came there looking for the best possible way to re-do their worn out and out-dated cabinets and/or furniture pieces. Bob quickly became the "go-to" guy for any questions related to paint products, faux finishing, and mostly, cabinet and furniture re-finishing. His years of experimentation in his finishing shop, as well as real life work, were paying off with regards to helping his customers on a daily basis!
Bob and his daughter, Rachel, joined forces in 2000 as a cabinet finishing company, Kitchens Kitchens, setting out to produce the most beautiful finishes around. Customers and decorators regularly referred to Bob and Rachel as artists, and Bob continued to get calls from colleagues and customers of Home Depot regarding their worn out white cabinets and their desire to make them look like rich, beautiful wood cabinets. They liked the idea of updating, revitalizing and enhancing the value of their homes without spending thousands of dollars on new cabinets.
They wanted a way to do it themselves, without too much fuss, too many products or complicated directions. Through continued experimentation and persistent thought on the matter, Bob determined how to bring his method of finishing to the common person with a simple two step process. Despite many people in his industry saying, "You can't do that" when asked about things such as making yellowing vinyl wrapped cabinet doors look like wood, he pushed forward saying, "Yes you can!" Thus, the FauxEZ process was born.
Bob and Rachel soon made it their mission to bring FauxEZ to the market, and here we are! We are exceptionally proud of our product, and hope you will take pride in your work using it!
Order Now